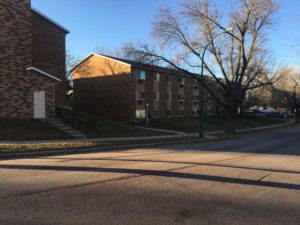 Property Type: Project Based Section 8 Multi-Family
Whittier Apartments and Town Homes is a 144-unit project (formerly known as Heritage Apartments and Rolling Hills Townhouses).
Whittier Apartments consists of two neighboring sites in the Whittier neighborhood of Sioux Falls: Whittier Apartments serves family, elderly and disabled residents and contains three, two-story buildings with elevators and 96 units on 2.53 acres. It is located at 1818 East 3rd Street.  The other site is Whittier Town Homes that serves families and consists of four, two-story town homes with 48 units on 4.57 acres. It is located at 614 North Lewis Street.
Property Features
Whittier Apartments has a mix of studio and one-bedroom apartments. Whittier Town Homes has a mix of three- and four-bedroom apartments.
Renovations
Whittier Apartments and Town Homes will receive over $45,000 per unit in hard cost rehabilitation as part of Steele Properties' acquisition. The scope of renovation encompasses both exterior and interior work. Building improvements include new siding, new roofs, new lighting, windows, HVAC systems and electrical upgrades as well as energy efficiency improvements. Apartment homes will receive interior upgrades including new kitchens and bathrooms. Project amenities include an updated community center and leasing office with computer niche, new playground, new pavilion with picnic area and upgraded laundry rooms.
Financial Partners
This project is financed with 4% tax credits allocated by  South Dakota Housing Development Authority (SDHDA), tax exempt bonds issued by SDHDA, permanent and construction financing provided by Citibank, and tax credit equity provided by National Equity Fund (NEF).
Property Stats
Units: 72 (total); 48 units in three, 3-story buildings for seniors and disabled; 24 townhomes in 4 buildings for families all on 9.1 acres.
Age: 1968 (both); undergoing renovations in 2019