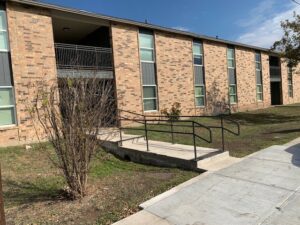 Built in 1968, Pan American Apartments is a Project-Based Section 8 Family property consisting of 17, two-story buildings with one-, two- and three-bedroom apartment homes on 9.57 acres. The open breezeways provide residents with exterior entrances to each apartment. The property features an on-site daycare facility with playground; a leasing office with community room and kitchen; laundry room; and playground. Pan American is located at 143 36th Street in San Antonio, TX 78237.
Pan American is completing renovations. It received over $73,000 per unit in hard cost renovations as part of Steele's acquisition. The scope of the rehabilitation was extensive, encompassing both exterior and interior work. Important building improvements include new roofs, paint, new central heating and air conditioning systems, sewer repair, and major plumbing and electrical upgrades. Project upgrades included parking lot paving, sidewalk repair, new LED lighting, new safety gates at the entrance with new perimeter fencing; upgraded community room with renovated kitchen and new computer lab; renovated leasing & management office; upgraded laundry room; 4 new playgrounds; picnic tables and bike racks.
Renovated apartment units received updated kitchens with new appliances, cabinets and countertops; bathrooms with new vanities, toilets and tub surrounds; new wood plank flooring; new interior doors and windows; new fixtures; new underground plumbing repair and central air conditioning.
This project is financed with 4% tax credits allocated by the Texas Department of Housing and Community Affairs (TDHCA), tax exempt bonds issued by San Antonio Housing Trust Finance Corporation, permanent and construction financing provided by KeyBank, and tax credit equity provided by National Equity Fund, Inc. (NEF).