Pythian Manor, a 76-unit Project Based Section 8 affordable senior and disabled property in Dallas, TX, was purchased in October and is under renovation.  This marks Steele Properties' sixth acquisition in the Dallas-Fort Worth metroplex, and fourteenth property in Steele's Texas portfolio.
Pythian Manor is receiving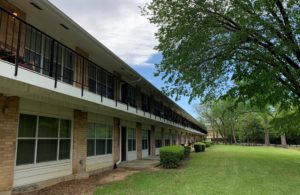 over $42,500 per unit in hard cost rehabilitation as part of Steele Properties' acquisition. The scope of the renovation encompasses both exterior and interior work. Important apartment improvements include new kitchens and bathrooms, new flooring and new lighting. Capital improvements include new roofs, chiller repairs, façade improvements, a renovated community room with kitchen, upgraded laundry room, as well as accessibility improvements for sidewalks, parking and common areas.
This project is financed with 4% tax credits allocated by the Texas Department of Housing and Community Affairs (TDHCA), tax exempt bonds issued Texas State Affordable Housing Corporation (TSAHC), permanent and construction financing provided by Redstone Tax Exempt Funding, and tax credit equity provided by National Development Council (NDC).
Built in 1968, Pythian Manor Apartments is a Project-Based Section 8 Senior and Disabled property consisting of 76 units in one, two-story building with a mix of studio and one-, bedroom apartment homes on 4.8 acres. Pythian Manor Apartments is located at 2719 East Illinois in Dallas, TX 75216.