Amberly Square is undergoing an extensive rehabilitation. This marks Steele Properties' first acquisition in Ohio and nineteenth state in Steele's national portfolio. The property is receiving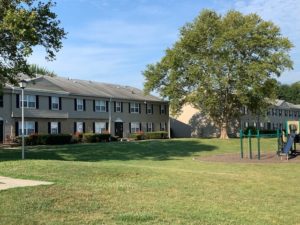 over $44,000 per unit in hard cost rehabilitation as part of Steele Properties' acquisition. The scope of the renovation encompasses extensive exterior and interior work. Important apartment improvements include new kitchens and bathrooms, new flooring, new lighting and sewer repairs. Capital improvements include new roofs, façade improvements, a renovated community room with computer lab, upgraded laundry room, as well as accessibility improvements for sidewalks, parking and common areas.
This project is financed with 4% tax credits allocated by The Ohio Housing Finance Agency (OHFA), tax exempt bonds issued by OHFA, permanent and construction financing provided by Redstone Tax Exempt Funding, and tax credit equity provided by National Equity Fund (NEF).
Built in 1971, Amberly Square Apartments is a Project-Based Section 8 Family property consisting of 8, two-story buildings and 112 units with a mix of one-, two- and three-bedroom apartment homes on 6.4 acres. Amberly Square is located at 2730 Brandy Drive in Columbus, OH 43232.